There is not a single designer out there who hasn't experienced at least once struggle while spending hours until they finally spot just the right elements to express their idea!
Digging out the perfect free web design elements to complement your web design is not so easy. We know how exhausting this process can be. It may take hours until you find exactly what you are looking for. That's why here at FreePSDFiles we took the time to gather for a collection of 20 sets of free web design elements which are also vector. This means they are very easy to customize with a suitable software, such as Adobe Illustrator, to fit your needs even better. So, let's get started!
A very rich set of free web elements that will come in very handy for web design and user experience design projects. This set contains radio buttons, toggle switches, check boxes, tabs, accordians, form fields, progress bars, video player, login form, audio player and many other buttons and UI elements.
2. Modern Web Element Collection
An elegantly designed collection of free web design elements including many tabs, search boxes and a set of icons in clean and stylish design. The set is designed in grey and blue but you can customize the colors according to your taste.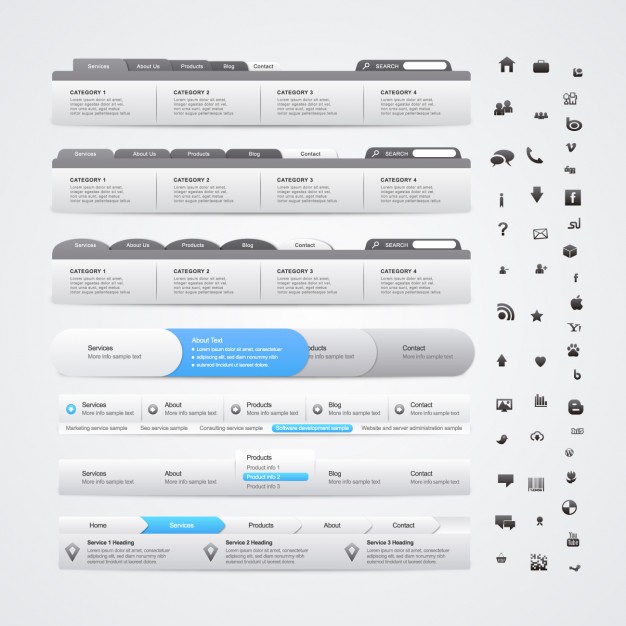 3. Buttons and Elements for Websites
A cheerful collection of free UI and free web elements designed in fresh colors. The collection includes tabs, slides, calendar, social media buttons, customer review boxes and more. All elements are designed in the trendy flat design.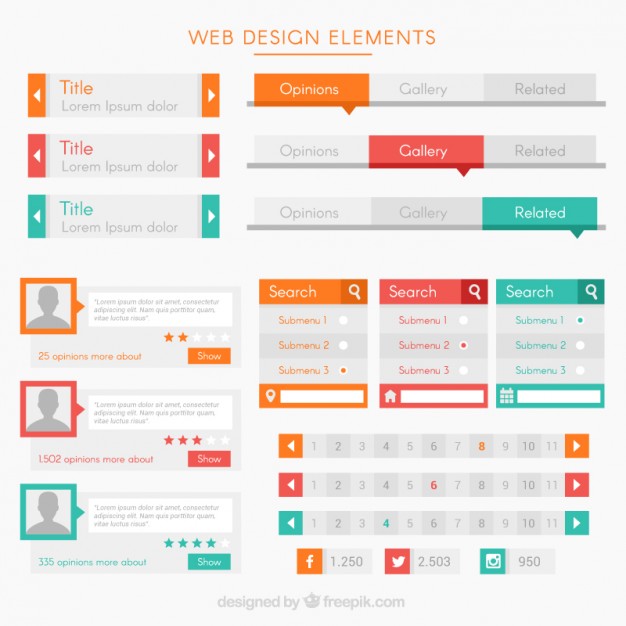 4. Colorful Modern Buttons for Websites
Absolutely stunning stylish buttons presented in 4 colors: grey, turquoise, magenta and orange. The shiny design of these eye-pleasing free web design elements will make your project absolutely glamorous.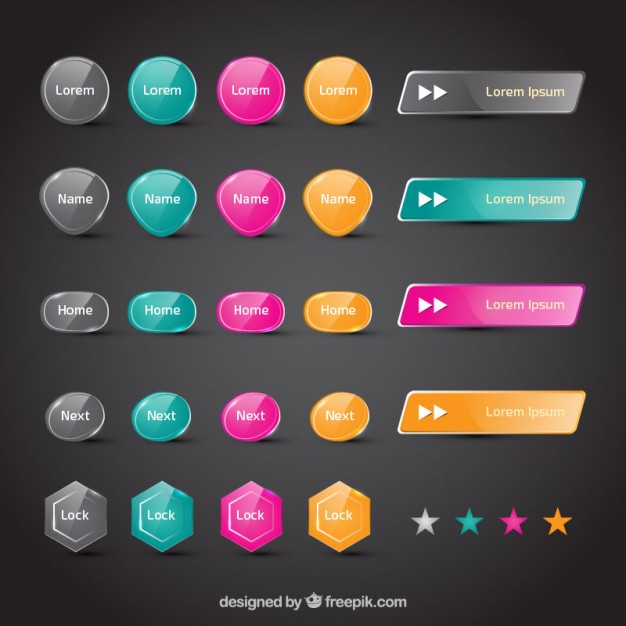 5. Set of Web Buttons in Flat Design
Clean and simple free web elements designed in flat style and presented in 3 colors: red, green, and orange. This collection includes many kinds of buttons, switches, menus, boxes and fields. It also comes absolutely for free.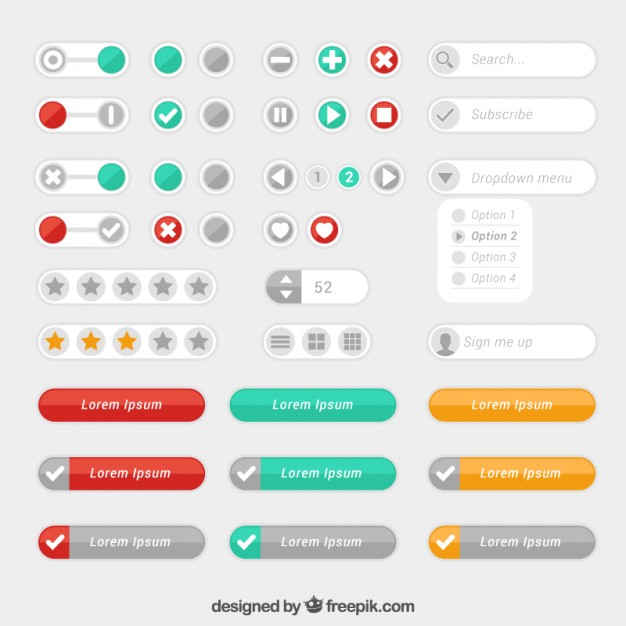 6. Shiny Web Buttons Collection in Orange Color
A fresh collection of buttons suitable for a wide range of web design projects. This set contains buttons designed in different shapes for various purposes. It comes in orange but feel free to change this color according to your taste.
7. Web Elements in Flat Design and Red Color
An attention-grabbing collection of free web elements designed in flat style and colored in two shades of red combined with white. This stylish collection contains various web elements such as a navigation bar, buttons, progress bars, fields, icons and more.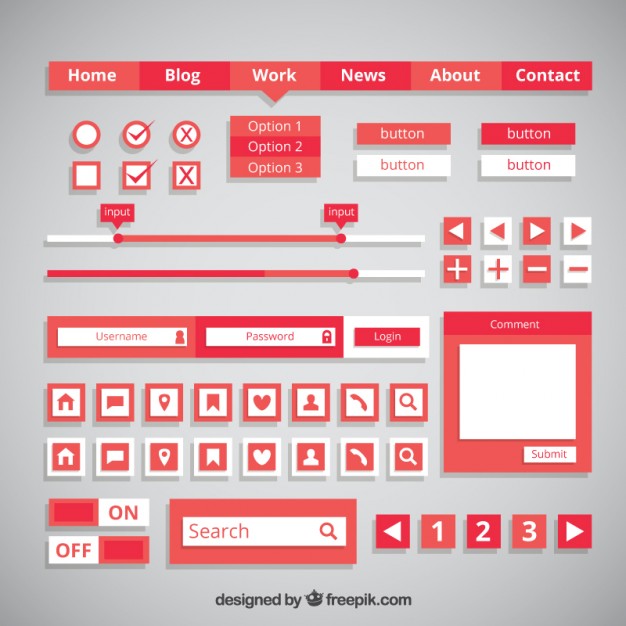 8. Blue Buttons in Flat Design
Another web element collection that comes in flat style. This set of free UI elements is designed in the calming color blue. It includes plenty of graphics useful for a wide range of purposes: video box, navigation bars, newsletter subscription field, login box, progress bar, tags design, and many more.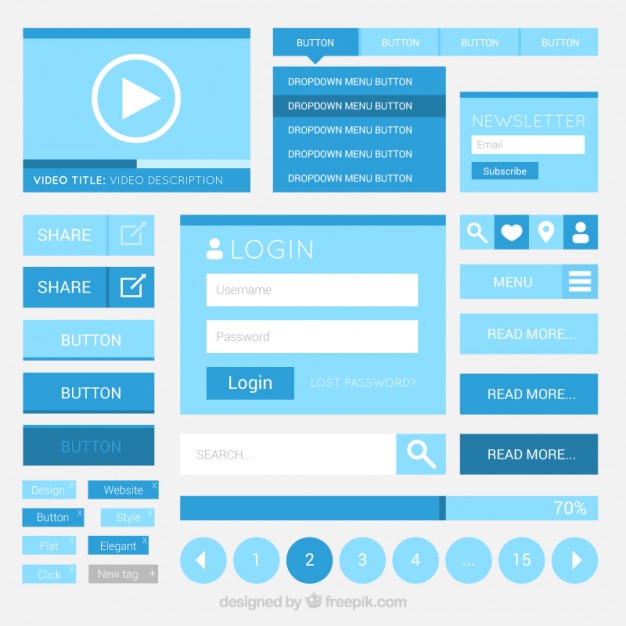 9. Variety of Flat Web Elements in Different Shapes and Colors
An impressive collection of free web elements containing some of the most essential elements for any web design. This collection is presented in flat style and 3 colors: purple, turquoise and crimson.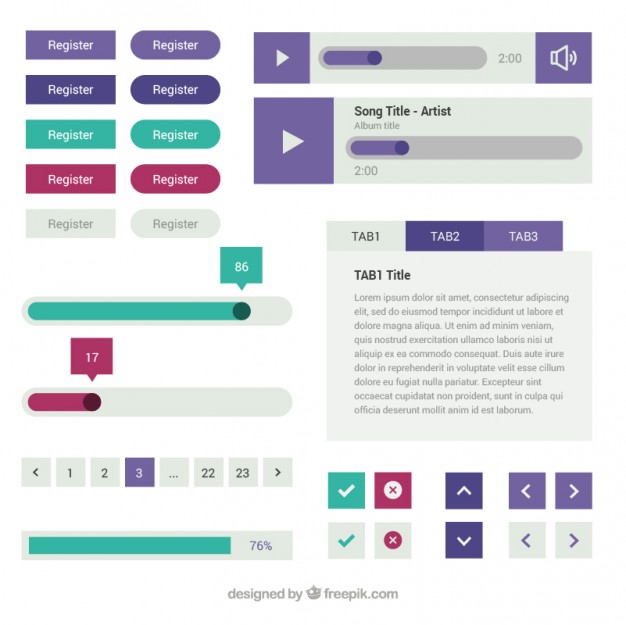 10. Collection of Web Design Elements in Eye-Pleasing Colors
A pretty collection of free web design elements presented in 4 soft colors: baby pink, baby blue, yellow and fresh orange. This set contains both rounded and squarish elements, perfect for plenty of web design purposes.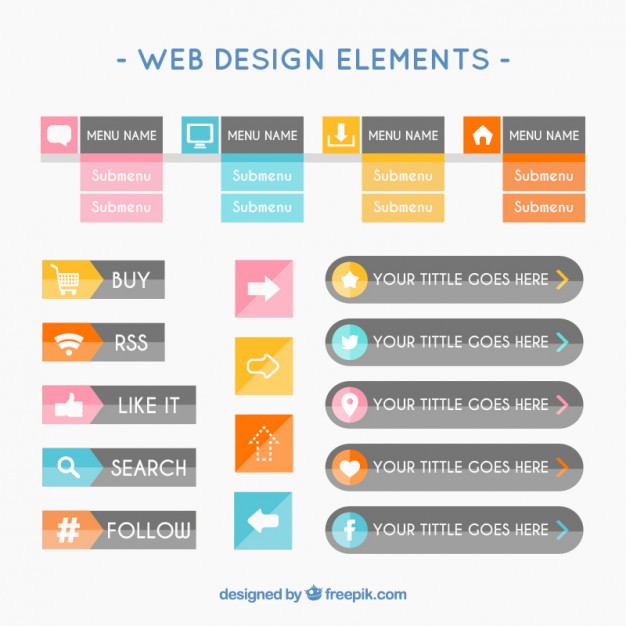 11. Website Modern Flat Elements
A very modern set of free web elements designed in bold colors which are easy on the eye. The design of these elements is material which is a hit right now. This free collection will certainly help you grab the attention of your viewers.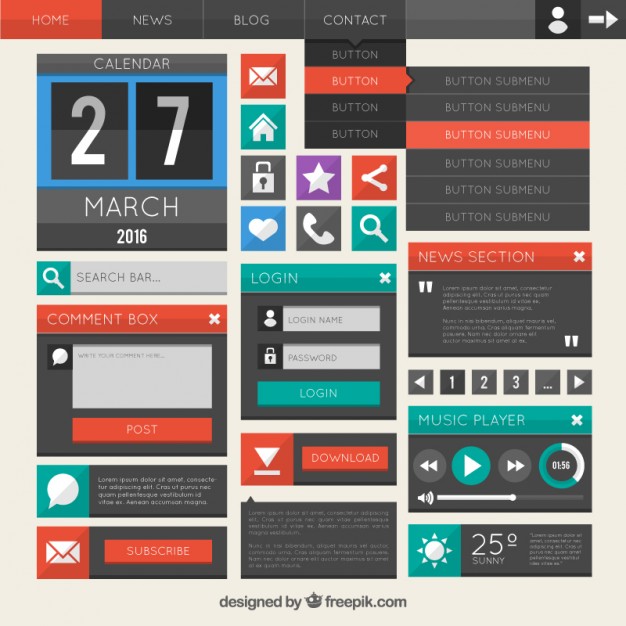 12. Simple Web Design Elements Collection
A very freshly designed set of web elements presented in colored outline style. While the colors of this set are very bright, it's up to you to whether modify them or not. One is certain – your design won't go unnoticed.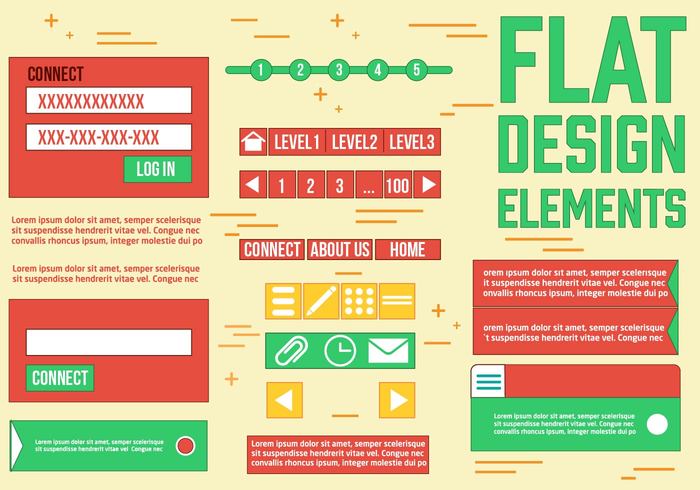 13. Colorful And Minimalist Web Elements
A collection designed in beautiful attention-grabbing gradients. This set of free web design elements includes many buttons, fields, boxes, progress bars, tabs, etc., all of which will help you create the design of your dreams.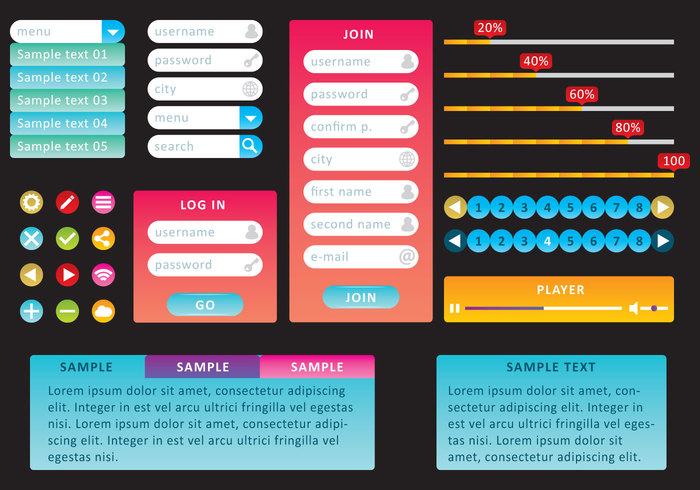 14. Hand Drawn Collection of Web Design Elements
An unconventional, yet very effective choice of free web elements design. These hand drawn elements will fit perfectly into a lot of web design projects. They will certainly make your design more fun and your viewers smile!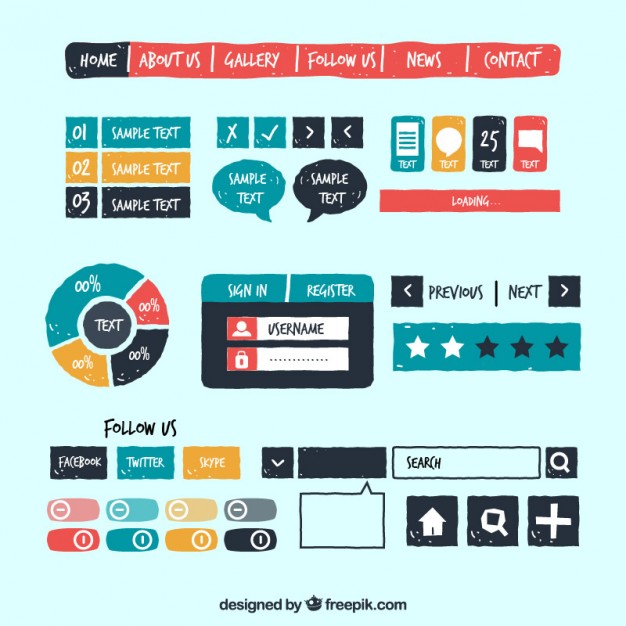 15. Hand Drawn Web Design Elements
A set of free web design elements perfect for mockups and wireframing. These hand drawn vector elements include a search box, buttons, icons, video player, text boxes and more.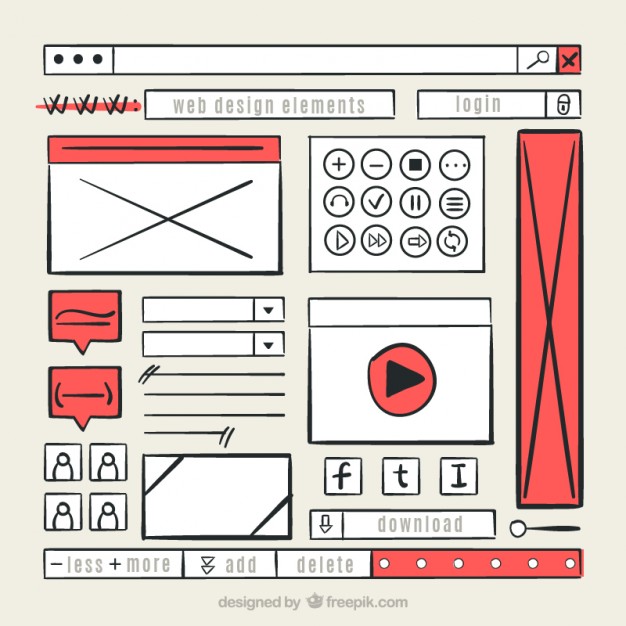 16. Colorful Elements for Website
A colorful collection of free web design elements in rectangular shapes with rounded edges. This set comes in a fresh color scheme: bright red, yellow, deep blue and two shades of grey. It also comes for free so go ahead and get it.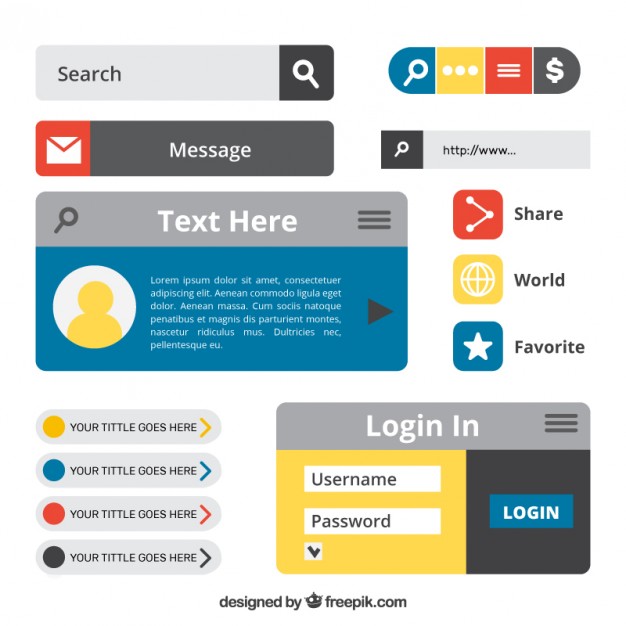 17. Flat Colorful Web Design Elements
A beautiful collection of call-to-action buttons, icons, social media buttons, register forms, dropdown menu, and more. These pretty web elements are designed in flat style and are absolutely free to download, so enjoy.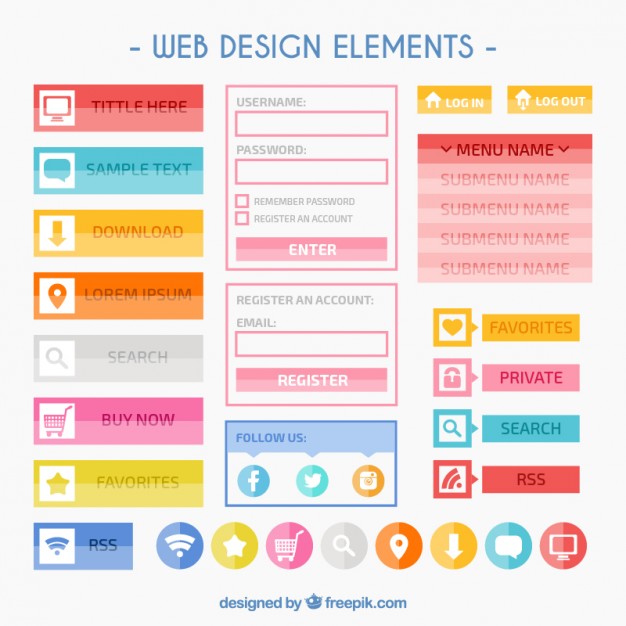 18. Pack of useful web elements
A collection of stylish and free web design elements, including buttons, fields, slider, etc. that come in the color blue. Since these graphics come in vector format, feel free to modify the colors until they match the colors of your web design.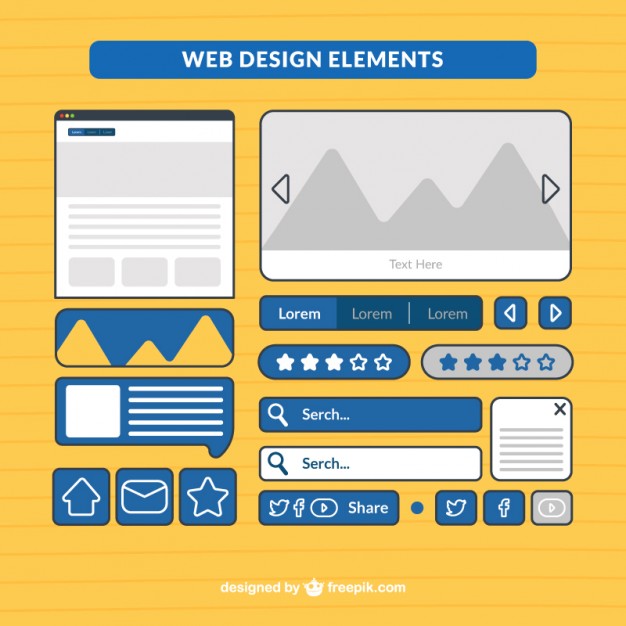 19. Blue Web Design Elements with Yellow Details
Blue and yellow simply work together. This collection of free web elements is designed in one of the most popular color combinations that please the eye. They are also very stylish and clean, so your viewers will most certainly love them.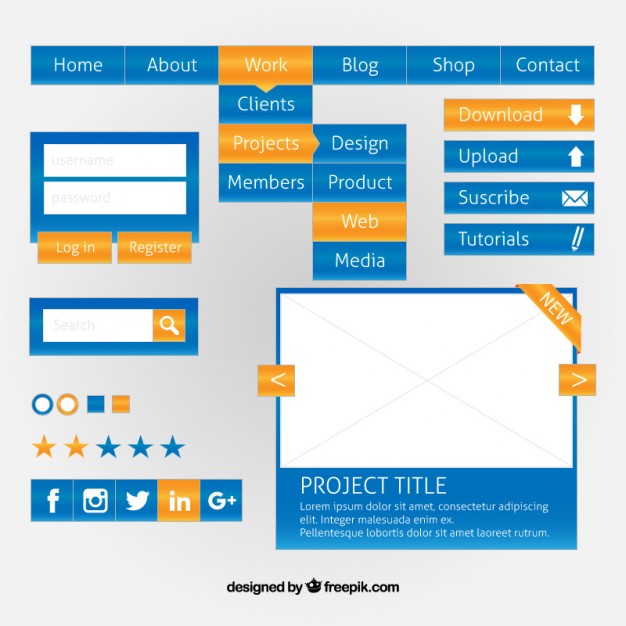 20. Colorful buttons and web elements
Bright colors are the ultimate attention-grabbing tool. The designer of these free web elements is clearly aware of user psychology because this set comes in the beautiful bright magenta, turquoise, purple and orange. The cherry of the cake – they come for free.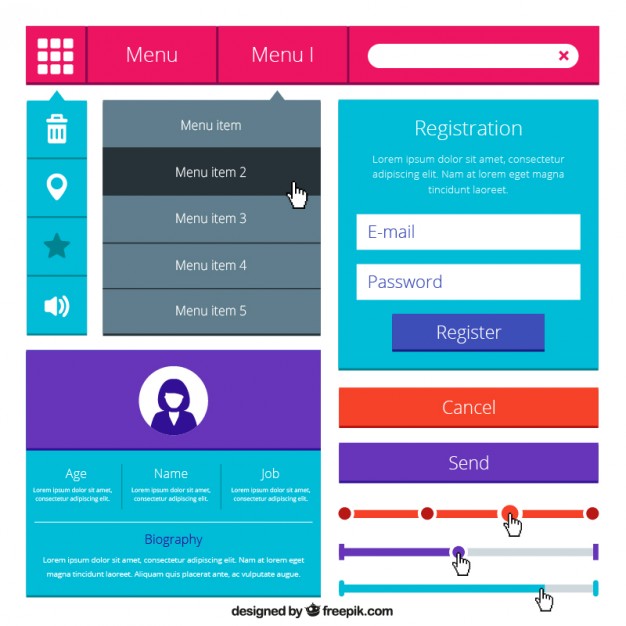 Hopefully, we saved you hours of searching for the perfect free web elements and you were able to find exactly what you were looking for. Stay tuned for more freebies, everyone!
*FreePSDFiles does not own the rights on these artworks and the following are not under the licence policy of FreePSDFiles. All graphics in this post link to their original sources, where you can download them for free and read further information on licence policy from the provider.