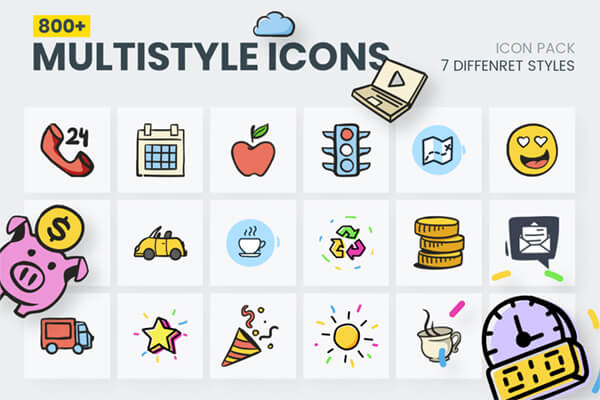 Saint Patrick graphics free psd set containing 6 unique, high quality graphics that are fully layered and designed in a fun style. You can use it for any of your websites or print projects. Download the whole set now for free and spread the holiday cheer!
Saint Patrick graphics free psd set featuring 6 different, festive icons, created in high resolution. Each icon represents a symbol of the Irish holiday and tradition. For example, the four-leaf clover. This special plant is very rare and according to folklore, it can bring good luck to people. Especially to those, who have stumbled upon it accidentally.
The graphics in the set are fully layered, organized and named properly in groups. This means you will have no problem customizing each icon as you wish. You can get as creative as you like with just a few clicks in Adobe Photoshop.
They are perfect for any kind of website projects and they can also be used for designing brochures, flyers, greeting cards and more.
We have created this psd set to ease your work and save you time. There is no need to start from scratch, just go ahead and grab our freebie now!
Our Saint Patrick graphics free psd set contains 6 different icons such as:
Wooden ale mug;
Green balloon;
Festive green hat;
Pot of gold;
Four-leaf clover;
Green drink mug.
If you're looking for more festive psd sets, be sure to check out our wide selection of holiday themed graphics and icons you can download completely for free!
Resolution: 1012×834px
File Format: PSD
File Size: 1.90 MB
Number of Items in Set: 6
Author: Free PSD Files
Note that if you want to spread the word about our freebie, you need to link back to this post. Links to download page or download archive are not allowed.